Description
11 Blend is a multi-purpose oil which performs as a moisturizer for your hair. It is full of good fatty acids, vitamin E, minerals and antioxidants. Naturally derived, it delivers nourishment, silkiness, elasticity, shine, frizz control and split end prevention. Full of repair properties it can rejuvenate all types of hair. UV filter and oils' antioxidants protect the hair color from city and beach sun rays.
Locks in the moisture and prolongs hair color treatments. Stimulates the growth of thicker, longer and stronger hairstrands.
Instructions
Ingredients
Spicy
Instructions
Use 2-3 drops to damp or dry hair, massage gently from mid-lengths to ends or other areas that need repair.
Multiple uses – on dry hair as a pre-shampoo treatment, or on both wet and dry hair after washing.
Keep out of reach of children!
External use only.
Keep away from eyes. If product gets into eyes, rinse thoroughly with water.
All hair types
Ingredients
Spicy
All of the above are what make our products hotter.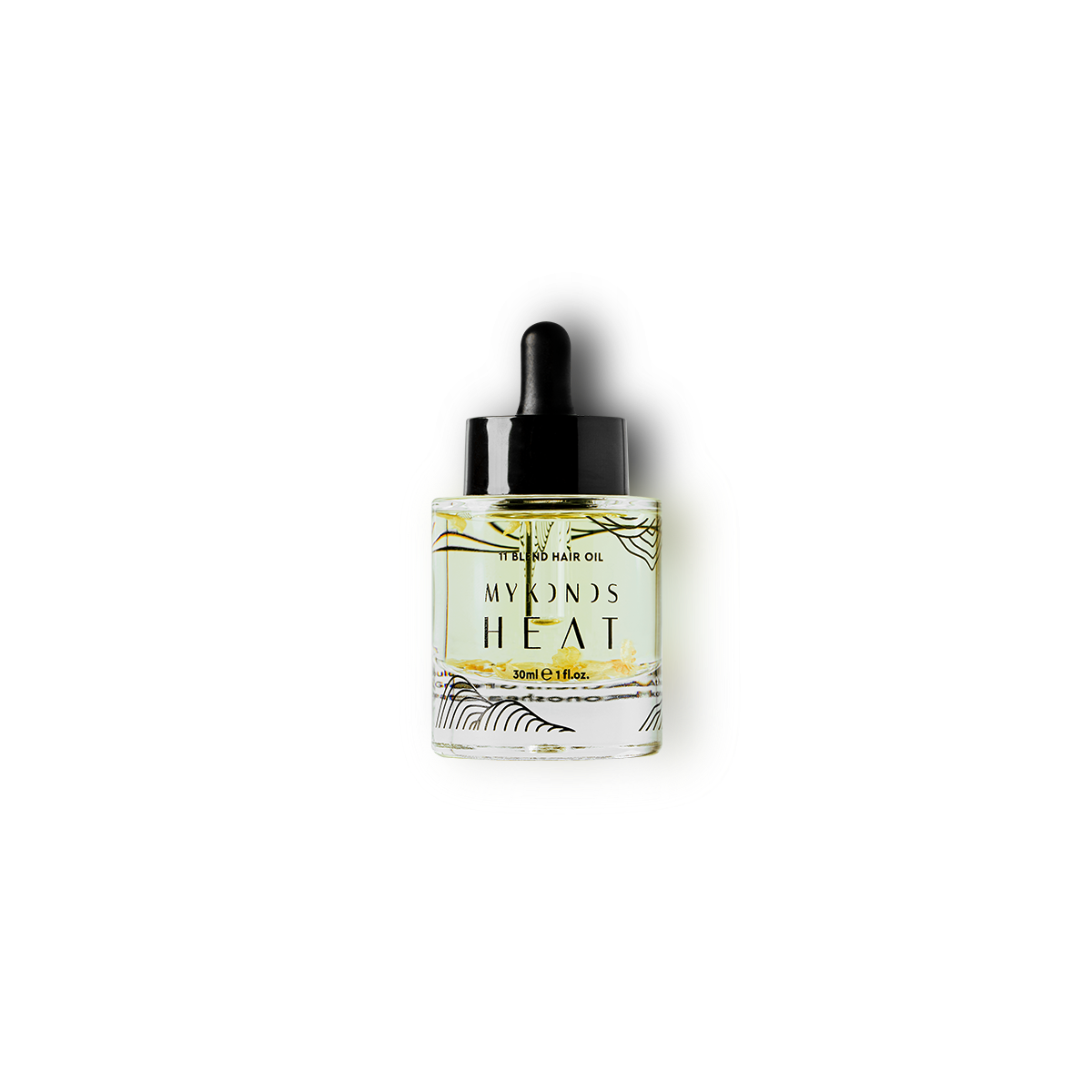 Rice Bran Oil: Stimulates the growth of thicker, longer, and stronger hair.
Sweet Almond Oil: Improving the texture of your hair.
Sesame Oil: Offers sun protection.
Sunflower Oil: Eliminates frizzy hair while providing softness and shine.
Grapeseed Oil: Acts as an antioxidant, Seals in moisture. Won't weigh strands down. Adds shine.
Macadamia Nut Oil: Controls frizz, tangles, and dryness.
Soybean Oil: Improves elasticity, prolongs hair color treatments.
Jojoba Oil: Advances strands' resistance to breakage.
Abyssinian Oil: Aids from the heat styling methods – used as substitute for synthetic ingredients, such as silicones, that are used in anti-frizz hair products.
Argan Oil: Liquid gold- overachieving ingredient to hydrate hair, prevent water loss and neutralize free radicals. Both a moisturizer and a sealant, which means it can penetrate the hair and also seal the strand on the surface.
Jasmine Oil: Strong natural antiseptic, leaves the hair pleasurably fragrant even after washing.
UV Filter: This crafty multi-protective oil will keep you covered through long days on the beach. It's specially formulated to protect hair from UV rays.
Jasmine Flower: Jasmine petals that strengthens your hair roots, makes hair tensile and prevents it from turning fragile. Tames frizz & reduces stress.
11 Blend combines notes of soft musk, lily of the valley and peach for a desirable candy essence.
Top Notes:
Green Apple, raspberry, peach
Middle Notes:
Lily of the valley, candy floss, gardenia
Base Notes:
Sweet vanilla, soft musk, oakmoss